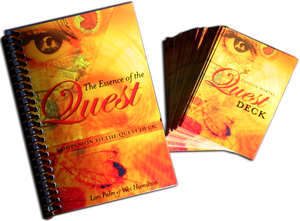 Tap Your Intuition…
Draw a card for your daily inspiration! Your inner consultant has answers to your many questions. Read how to tap your intuition in the Core Passion®guide book, The Essence of the Quest, by using the Passion Portal Quest Deck. These beautiful cards reveal the secrets of your success.
The Essence of the Quest is a unique Guide Book that gives you access to specialized knowledge about your burning desire to assist you in becoming decisive in nature. It takes you through an easy, succinct, powerful experiential process that allows you to directly connect with your Core Passion's Voice. You'll use it with the accompanying Passion Portal Quest Deck that keeps you focused and connected in expressing your core passion on a daily basis. Each card contains words for the conscious mind to react to and symbols to access the emotional and intuitive subconscious mind. Looking at the words and the symbol simultaneously creates a spark that activates the ancient wisdom in the cellular memory that we all carry within us.
You'll discover every time you use these cards, you reach a deeper aspect of understanding about the Core Passion® Code you're working with. You have everything you need to know inside of you. But sometimes it just gets stuck. Using these cards and book creates a bridge of consciousness to activate the ancient wisdom that you were born with. Each day, you'll be inspired with a deep knowing that you're on the Right Path and that you are awakening more and more levels of your consciousness. Live your life with a constant sparkle in your eyes!
Buy the Passion Portal Quest Deck & Book Today!
$25.00 (plus $6 s&h)